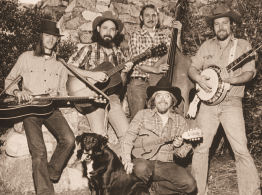 What a long strange trip it's been...
Finger Pickin' Good has been a presence on the music scene in Southern Oregon for more than 35 years. The band was originally formed in Southern California when brothers Gary and Richard Antonucci began playing music with their schoolmate and fellow music lover Greg Clark. Gary and Richard had been playing guitar, mandolin and banjo together since they were young boys. They come from a musical family and began taking lessons from their Uncle Fred at an early age. When the band first formed, Greg started out playing a home-made washtub bass but soon graduated to the big bass fiddle.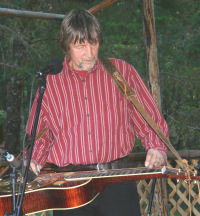 The gang migrated to Southern Oregon in 1976 with band member at the time Al Brinkerhoff, who is a fine Dobro player (1996 Oregon State Dobro Champion) and can still be heard often in the area as a sideman or with his own family band Sequoia. They liked the area so much, they all (except Greg) married Debbies and have all lived here ever since!
In 1978 the gang met another award winning musician in fiddler Willie Warwick who made his own uniquie contribution to the Finger Pickin' Good sound. Willie is the champion fiddle player from a family that has been involved with the national fiddle scene for over thirty years. His family hosts a fiddle get together that for twenty eight years has drawn hundreds of people from all over the western United States. Willie has competed in the Weiser National Fiddle Contest several times.
In the ensuing years, Finger Pickin' Good has seen many incarnations with former members as well as new musicians coming and going, often playing together in informal family settings. Along the way, the constant has been Gary, Rich and Greg.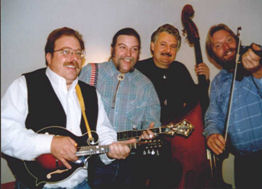 As time went on, Finger Pickin' Good became mostly a quartet with Willie on fiddle, Gary on mandolin/guitar, Richard on banjo/guitar and Greg on bass. The band spent countless hours honing its eclectic style of acoustic music and playing as many gigs in the area that they could find. Finally, in 1999, they managed to put together enough original material to go into the studio and produce the first Finger Pickin' Good CD - "Oregonized Bluegrass."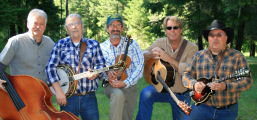 In 2004 the band found a new lineup and a new name - Gold River. Joining Gary, Richard and Greg this time were Ray Frey on guitar and Tony Askins on fiddle. Flatpicker and singer Ray, took over the guitar work, freeing Gary and Richard to concentrate on their main instruments while Tony's great fiddle playing and fine vocals added a new depth to the music. With five strong voices and the usual instrumental magic, Gold River continued the "Finger Pickin' Good" tradition of fine Southern Oregon acoustic music they have been playing for years.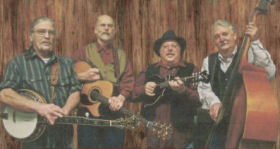 In 2009 the winds of change struck again and the Finger Pickin' Good name was resurrected, this time with new guitarist Dave Woerner as the fourth member. Dave and his family had escaped from the Silicon Valley lifestyle in California in 2001 and he had been frequenting the local jams, looking for people to play with. He had played with several Bay Area bands, most notably Mr Banjo & the Lonesome Wailers and The Grass Menagerie and was looking for some like-minded players with which to join forces. He had jammed with Gary, Richard and Greg (now using his middle name and going by "Gregory Allan" onstage) and had been impressed with the number of songs they had in common with his old bands. But it was when he discovered that they also knew El Cumbanchero (a famous Latin/Jazz song that was a big hit south of the border in the 50's) that he knew he had to join up with them. Fortunately, the opportunity eventually presented itself, and the rest, as they say, was history!